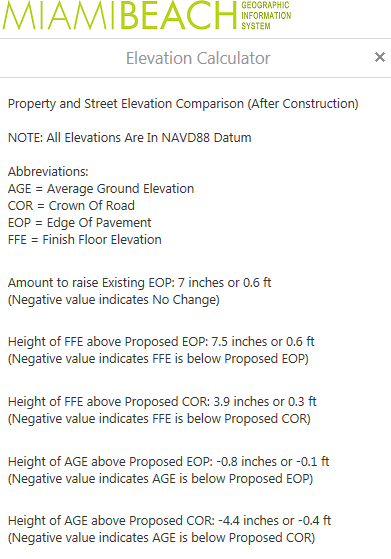 In 2017, Miami Beach launched an elevation calculator that translates technical terms and measurements so every resident can understand them. This online tool also helps you visualize the relationship between your property and your street by telling you if, and how many inches, the road will need to be raised.
Using the adaptation calculator is simple! All you need is a copy of your elevation certificate, which you can request from your flood insurance agent or by contacting the City's Building Department. The calculator will use the Finished Floor Elevation (FFE) listed on the certificate to compare your property with the Edge of Pavement (EOP) – that is, the curb – and the Crown of Road (COR) – that is, the middle of the road – on your street:
In this example, the existing road is at 3.0 feet NAVD, meaning it only has to be raised 7 inches to meet the minimum standard of 3.7 feet NAVD. Based on its FFE, the home will sit 3.9 inches higher than the middle of the road and 7.5 inches higher than the curb once the street is raised. Note that the curbs are strategically designed lower so when rain falls on to the surface, it drains to the downstream inlets.