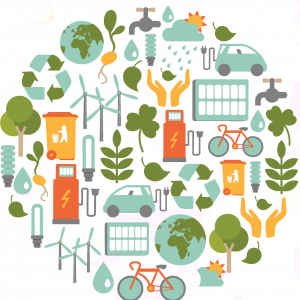 Sustainachella is a series of virtual community workshops hosted by the City of Miami Beach. Each workshop focuses on a different topic that promotes environmental stewardship and sustainable living habits.
Workshops are held on the Zoom platform and are open to the public. Register for the next workshop today by clicking on the topics within the dropdown menu below!
Once registered, you will receive an email with the webinar link. For questions on the workshop please email, Yani Pineda: ypineda@miamibeachfl.gov
*Students are eligible to receive 1 community service hour. To obtain the community service hour, the student must register and check "Yes" in the question field.
Past workshops can be viewed in the "past workshops" tab. Please allow one week for workshop recordings to be uploaded.
April 16, 2021 - Greening your Home
Together with the City of Nashville and Maypop Building, we will discuss sustainable architecture, construction, and real estate. The workshop will include information on how property owners can make their homes greener by implementing upgrades that range from large projects to small, easy fixes and property values can increase with these sustainable practices.
Greening your Home
April 16 | 12 PM
Guest Speakers
Betsy Littrell - Maypop Building
Jennifer Westerholm - City of Nashville
April 23, 2021 - Biscayne Bay Defenders
Together with our partner Miami Waterkeeper, we will provide a virtual training for the community on the state of Biscayne Bay and how to protect it. Topics will include how to avoid, identify, and report pollutants as well as other hazards that can impact this vital natural resource.

Biscayne Bay Defenders
April 23 | 12 PM
Guest Speakers
Collin Schladweiler, Program Manager - Miami Waterkeeper
December 15, 2020 - Homemade Holidays
This year, give your holidays that extra green touch! Learn about making homemade products using natural ingredients and how to wrap gifts beautifully without buying more wrapping paper.
Homemade Holidays
Tuesday, December 15, 2020 | 12 PM
Guest Speakers
Maddie Kaufman, Program and Outreach Director
Megan Newmans, Holistic Health Coach
Kayla Martinez, Natural Products Advocate
January 29, 2021 - Sweet Bees
Bees are one of the most important pollinators and are critical in the propagation of plants, trees, and food crops in South Florida. Join us to learn more about bees and pollinators, local beehives, and becoming a trained beekeeper!
Sweet Bees
January 29, 2021 | 12 PM
Guest Speakers
Daniel Calzadilla, Local Bee Keeper and Founder of Bee Wranglers
David Riera M.Sc., Graduate Advisor and Founding Member of South Florida Bee Keeping Association
Sanna O'Sullivan, Garden Naturalist, Miami Beach Botanical Garden
February 26, 2021 - Operation Rescue
Join us for a workshop lead by the Pelican Harbor Seabird Station on how to handle injured wildlife in our city. Learn about the most commonly seen injuries and what the community can do to prevent them.
Operation Rescue
February 26, 2021 | 12 PM
Guest Speakers
Hannah McDougall, Rescue and Release Coordinator
March 31, 2021 - Reflecting on Resilience
Join artists misael soto and Paola Cassola as they discuss their art practices and the Department of Reflection - a project connecting art and government through moments of reflection on some of the community's most important public issues.
Reflecting on Resilience
March 31 | 12 PM
Guest Speakers
misael soto, Director, Department of Reflection
Paola Cassaola, Multi Media Artist