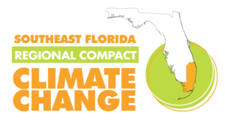 The Southeast Florida Regional Climate Change Compact (Compact) began as a collaborative effort among Palm Beach, Broward, Miami-Dade and Monroe Counties, their municipalities, and their partners.  The purpose of the Compact is to unite, organize, and assess the southeast Florida region through the lens of climate change and develop unified action over the next five years.  Miami Beach has been a leader within the Compact partners in forging climate adaption and mitigation initiatives forward within the region. From our enhanced stormwater management system to the Atlantic Greenway Network that provides safe alternative pedestrian and bicycle network. This is a great partnership that enhances the city's accomplishments while learning more about our regional partners' initiatives.
In October 2012, the Compact released the Regional Climate Action Plan (RCAP).  The RCAP's overall objective is to integrate climate adaptation and mitigation into existing decision-making systems and to develop a plan that can be implemented through existing local and regional agencies, processes and organizations. In 2017, the compact began developing the second Regional Climate Action Plan (RCAP 2.0) and seeks the views of local government staff, key stakeholders and partners, and members of the general public on the issues of foremost regional importance.
In early 2020, the Southeast Florida Climate Change Compact reunited their Sea Level Rise Workgroup to release their 2019 Unified Sea Level Rise projections with updated data from the National Oceanic and Atmospheric Administration (NOAA) and the Intergovernmental Panel on Climate Change (IPCC). The 2019 projection estimates an overall increase from the earlier projections released in 2015. Increase in sea level is estimated to be approximately 10 to 17 inches by 2030, 21 to 54 inches by 2070, and 40 to 136 inches by 2120.
Learn more:
Southeast Florida Regional Climate Action Plan
Unified Sea Level Rise Projections