Miami Beach and our challenges with sea level rise are a common theme in global conversations regarding climate change. It is not news to anyone that our low lying, coastal city is facing and will continue to face not only sea level rise, but also other impacts from climate change. However, the city of Miami Beach is working diligently to convert these challenges into opportunities, starting with adaptation initiatives such as the installation of pump stations, rising of roads, and other innovative drainage improvements that are informed by the latest scientific data
In 2011, the Southeast Florida Regional Climate Change Compact (Compact) released a Regional Climate Action Plan with sea level rise projections for our region that the City of Miami Beach and other southeast Florida municipalities use as a guidance to prepare and integrate climate adaptation and mitigation into existing decision-making. In late 2014, the Compact reunited their Sea Level Rise Workgroup to adjust these regional projections with updated data from the National Oceanic and Atmospheric Administration (NOAA), the United States Army Corps of Engineers (USACE), and the Intergovernmental Panel on Climate Change (IPCC). The sea level rise scenarios developed by this group were released in 2015 and project an estimated increase in sea level of approximately 6 to 10 inches by 2030, 14 to 26 inches by 2060, and 31 to 61 by 2100.
Although these results show a small increase in short term projections (2030), they show a significant increase in sea level rise throughout the medium and long term scenarios (2060-2100). These projections are based on current greenhouse gas emissions (GHG) and can only be improved if we reduce the amount of emissions released in our environment.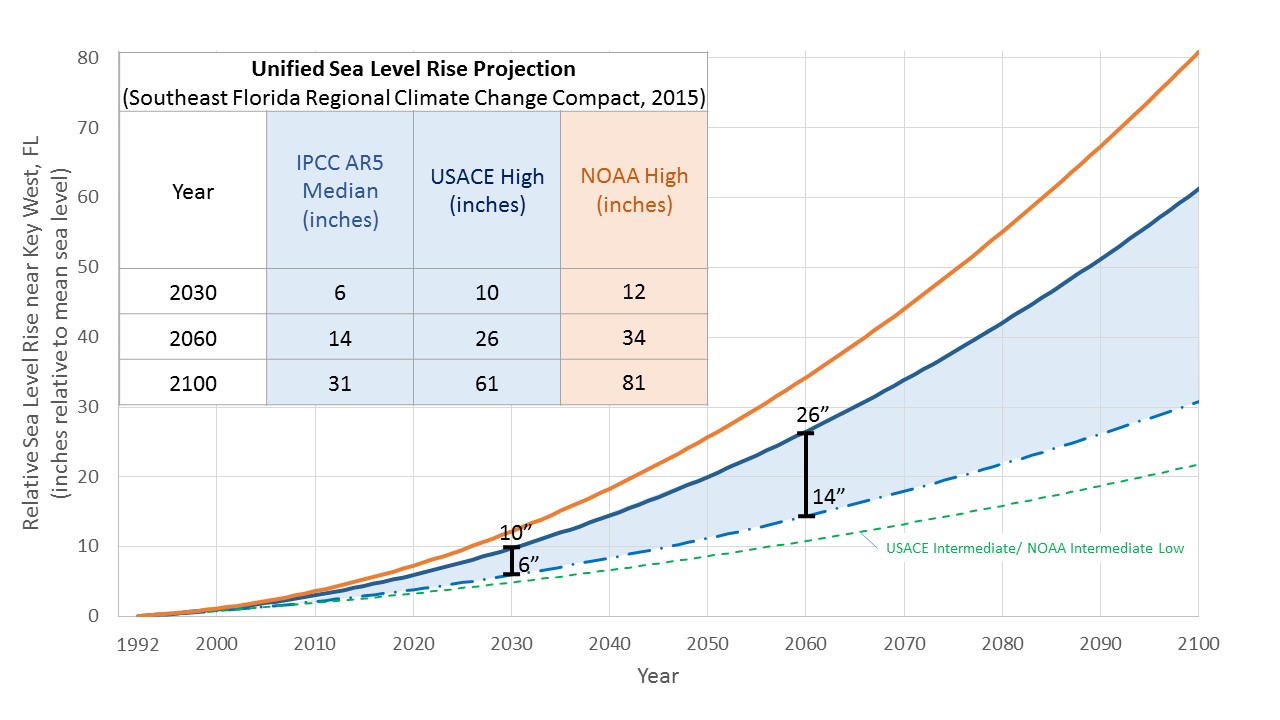 These projections are referenced to mean sea level at the Key West tide gauge. The projection includes three global curves adapted for regional application: the median of the IPCC AR5 RCP8.5 scenario as the lowest boundary (blue dashed curve), the USACE High curve as the upper boundary for the short term for use until 2060 (solid blue line), and the NOAA High curve as the uppermost boundary for medium and long term use (orange solid curve). The incorporated table lists the projection values at years 2030, 2060 and 2100. The USACE Intermediate or NOAA Intermediate Low curve is displayed on the figure for reference (green dashed curve). This scenario would require significant reductions in greenhouse gas emissions in order to be plausible and does not reflect current emissions trends.