Miami Dade County's Transit includes a Metrobus System, Metrorail, Metromover, and Special Transportation Service.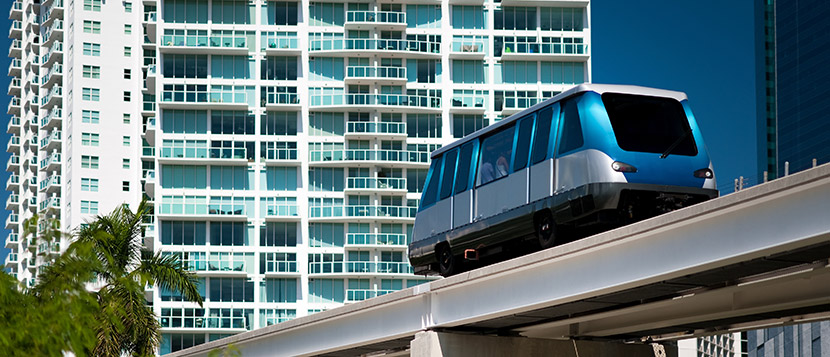 The Metrobus system provides service throughout Miami-Dade County 365 days a year. Service is available from Miami Beach and Key Biscayne to West Miami-Dade, as far north as Broward County and as far south as Homestead, Florida City and the Middle Keys. Designed to intersect with Metrorail and Metromover, MDT's bus system serves all major shopping, entertainment and cultural centers, as well as major hospitals and schools.
Continue your trip around Miami Dade County with the Metrorail! The Metrorail system is a 25-mile dual track, elevated rapid transit system that provides service to Miami International Airport (MIA) and runs from Kendall through South Miami, Coral Gables, and Downtown Miami; to the Civic Center/Jackson Memorial Hospital area; and to Brownsville, Liberty City, Hialeah, and Medley in northwest Miami-Dade, with connections to Broward and Palm Beach counties at the Tri-Rail/Metrorail transfer station. The system currently uses 136 train cars. The 23 accessible Metrorail stations are about one mile apart, providing easy access for bus riders, pedestrians, and passengers who are dropped off and picked up.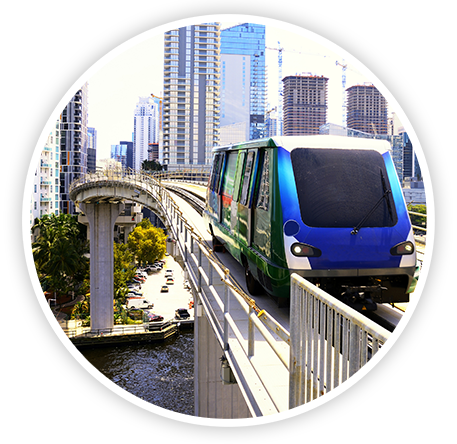 Everybody rides free on Metromover. This 4.4-mile electrically-powered, fully automated people mover system connects with Metrorail at Government Center and Brickell stations and with Metrobus at various locations throughout downtown.  Major destinations of the Metromover system include the American Airlines Arena, Bayside Market Place, Miami-Dade College and the Miami-Dade County School Boar
Special Transportation Service (STS) is MDT's complementary paratransit service. Established in 1976 to meet the special transportation needs of disabled Miami-Dade County citizens, STS is available to anyone deemed eligible.  Privately contracted sedans, vans and vans equipped with lifts provide door-to-door service for eligible customers. Service is offered with no restrictions on trip purpose.
For more information on the MDC Transit System including schedules and routes, visit miamidade.gov/transportation today.