Miami Beach is highly visited destination that receives over 9 million visitors per year. It remains the most popular destination in Greater Miami and the Beaches. Top attractions include our beautiful weather and the great natural resources that our city has to offer. This includes our sandy beaches and pristine water ways.
The city also receives special visitors throughout the year that come to our city to learn about our sea level rise adaptation efforts ranging from municipalities, to non-profits, and academia. Last year, Miami Beach hosted guests from New York, St. Augustine and even Tokyo. These visitors come with an interest in seeing what the city has done to protect its natural and built environment in the face of climate change and sea level rise.
Miami Beach is the blueprint for what other cities in the world can do to remain resilient to these environmental changes.
Interested in learning about resilience efforts in the city?
The City of Miami Beach understands its role as the poster child for climate change adaption and mitigation. Through guided tours of various points of interest throughout the city, we hope to share our experiences and learned lessons with the global community.   Request a personalized tour with one of our city experts by filling the form in the link below.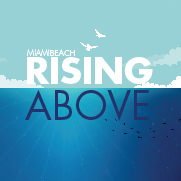 The city is proud to announce the launch of the Rising Above Tours app. We are proud to be the first city in the county to offer tours featuring the city's resilience efforts. Tours will range from learning about adaptation projects, to arts and culture, and even the natural elements.
Download the app today to learn about projects in the Sunset Harbour Neighborhood or the natural resources that Biscayne Bay has to offer. Other tours will be added in the future.
The app has been designed to allow all users to take a tour from the comfort of their own home through the web app option. It can also be download through the Google Play and Apple Stores at the links below.
This app and the tour would not have been possible without the support of the Miami Foundation Public Spaces Challenge and the Target.