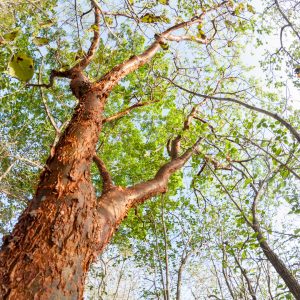 There are many benefits that come with having a prosperous urban canopy. It has been found that when sitting under a tree, the temperature can feel up to 35 degrees cooler! This is especially evident when comparing a parking lot to an area that is protected by our urban forest. The benefits don't stop there - trees also help intercept thousands of gallons of urban stormwater runoff, reduce CO2, and help conserve electricity. It's important to maintain a balance between our natural and urban elements. Encouraging canopy growth can help preserve natural resources by providing much needed habitat for wildlife and reduces soil erosion.
Miami Beach has been a Tree City USA community since 2005.  This designation is sponsored by the National Arbor Day Foundation and recognizes communities that have proven their commitment to a healthy urban forest. Part of our commitment is having an Urban Forestry Division dedicated to managing and protecting our beautiful trees. This division issues tree permits, oversees tree mitigation, conducts heritage tree evaluations, conducts tree protection barrier inspections, provides tree risk assessments, and reviews plans for citywide tree selection and installations. The division also manages the newly created Commemorative Tree Program and conducts community-wide education and outreach.
Learn more:
Urban Forestry Division
REGISTRATION FOR THE GIVEAWAY IS NOW CLOSED. THE CAPACITY FOR THE TREE GIVEAWAY HAS BEEN REACHED.
Tree recipients can learn more about their tree here.