Water conservation is the most cost-effective and environmentally sound way to reduce our demand for water. Water conservation is a necessary component to achieve a more sustainable future and is not just for times of water shortage. Sound water use practices reduce the amount of stress that we place on our resources, both by limiting water withdrawals and by decreasing wastewater discharges.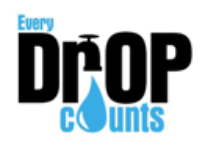 What You Can Do!  Small changes in everyday activities can add up to huge water savings.
Here are some everyday quick water conservation tips:
Home Usage
Run your washing machine and dishwasher only when they are full and you could save 1000 gallons a month.
We are more likely to notice leaky faucets indoors, but don't forget to check outdoor faucets, pipes, and hoses for leaks and address them quickly.
Grab a wrench and fix that leaky faucet. It is simple, inexpensive, and can save 140 gallons a week.
Soak your pots and pans instead of letting the water run while you scrape them clean.
Collect the water you use for rinsing produce and reuse it to water houseplants.
Turn off the water while brushing your teeth. It can save you 2,000 gallons a year.
Do one thing each day that will save water. Even if savings are small, every drop counts.
Outdoors
Next time you add or replace a flower or shrub, choose a low water use plant and save up to 550 gallons each year.
Use a broom instead of a hose to clean your driveway and sidewalk and save up to 80 gallons of water every time.
Use a hose nozzle and turn off the water while you wash your car to save more than 100 gallons.
Choose a water-efficient drip irrigation system for trees, shrubs and flowers. Watering at the roots is very effective. Rain Barrel
Collecting rain water in a rain barrel is a great way to capture water to use for irrigating landscaping and potted plants. The Miami-Dade County Cooperative Extension Service offers a series of Rain Barrel Workshops. Register for the next event here.
Showerhead Replacement
City of Miami Beach Public Works Department is conducting a showerhead replacement program throughout the City. To learn more contact the Public Works Department at 305.673.7080. Learn how to receive your free showerhead and water conservation kit from Miami Dade County Showerhead Exchange and Retrofit Kit Program.
For additional information on water conservation check out these links:
Learn more about Miami-Dade County Water Conservation programs and rebates.
Miami-Dade County Residential Program – Ways to Save Money and Water.
The U.S. Environmental Protection Agency (EPA) Water Sense Program