SEA TURTLES AND THE  MIAMI BEACH ECOSYSTEM
 Sea Turtles are protected by the US Endangered Species Act of 1973 and Florida Statute Chapter 370. It is illegal to harm or harass sea turtles, their nests or hatchlings. The City of Miami Beach is a nesting habitat for three species of protected sea turtles; the Loggerhead, Green, and Leatherback. Annually, beginning in April and extending through early November, the native sea turtles come to nest on our beaches. Sea turtles lay around 100 eggs in a nest and lay between 3 and 7 nests during the summer nesting season. It is important not to disturb hatchlings, eggs or nests since hatchlings need to crawl to the sea unimpeded. Touching nesting females, taking flash pictures of nesting females or hatchlings, or digging into nests is prohibited by law. If you observe someone harassing a nesting or hatchling sea turtle, contact Florida Fish and Wildlife Conservation Commission (FWCC) Law Enforcement at (888) 404-FWCC (3922) or *FWC on cellular phones.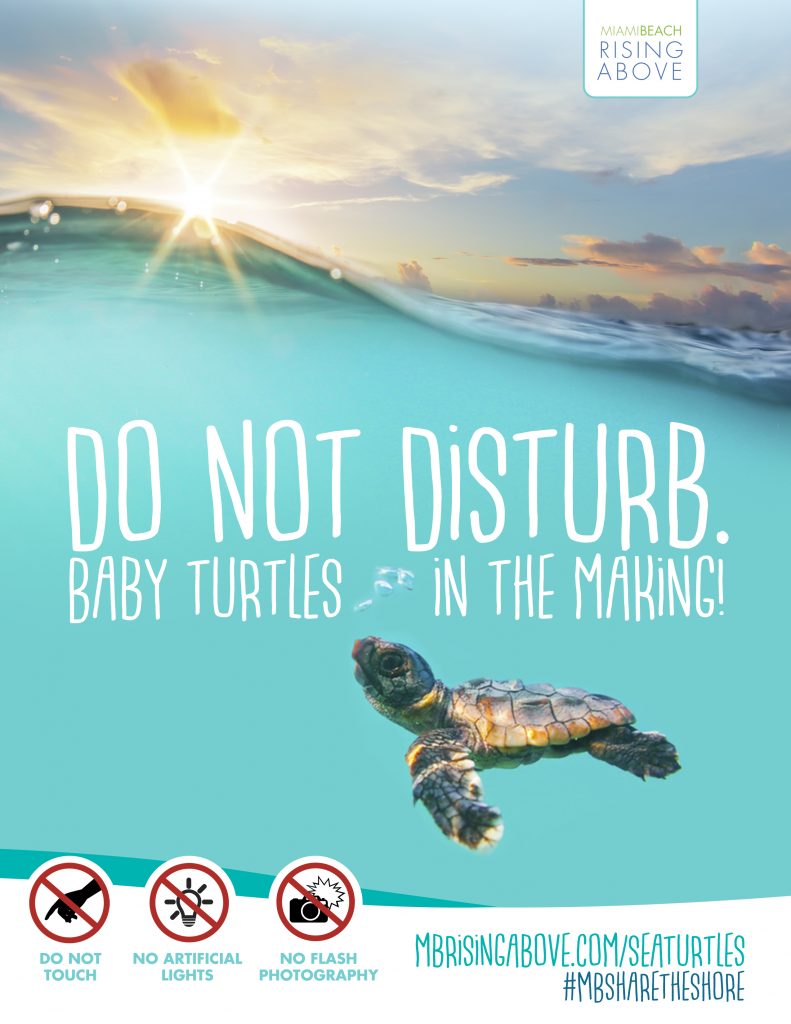 Photo by Ben Hicks Fine Art
THE THREAT OF ARTIFICIAL LIGHTING
Turtle nesting season in State of Florida occurs between May 1st and October 31st.  However, Turtle nesting season occurs begins on April 1st for Miami Beach to account for the earlier leatherback nesting season. Although turtles prefer dark beaches, many nest on lighted shores due to lack of dark beaches. This jeopardizes hatchlings, which are instinctively attracted to bright lights. Normally, the light that they travel towards is created by the reflection of the moon or stars off the surf. However, beachfront artificial lighting poses a serious threat to hatchlings by disorienting the hatchlings, causing them to crawl away from the ocean and toward the artificial light. On beaches where artificial lighting is visible, nesting females may be deterred from nesting and the hatchlings' important journey to the sea can be disrupted. To prevent disorientation and adverse impacts on nesting turtles, installation of oceanfront exterior lighting that is disruptive to sea turtles is prohibited by state law (Chapter 62B-55, Florida Administrative Code). The City of Miami Beach has adopted a Turtle Nesting Protection Ordinance to minimize the impact of artificial lighting on hatchlings and nesting sea turtles and thereby protect the endangered species which frequently visits its beaches. The Ordinance encourages light management on private and public lands, preventing light pollution that is problematic for sea turtles and other nocturnal animals.
What can you do?
Never approach turtles emerging from the sea or disturb or harass nesting turtles. No matter how quiet, humans will often – and unknowingly frighten nesting sea turtles back into the sea.
Use caution while boating to avoid collision with turtles.
Stay clear of marked sea turtles nests on the beach. All nests are marked by stakes, caution tape, and labeled with an FWC approved sign. This includes "camping" near a nest waiting for hatchling to emerge.
Close curtains or blinds at night to prevent interior lights from shining onto the beach.
Keep bright lights from shining onto the beach. If you have security/safety lights near the beach, build shades around the light so the beach is not directly illuminated.
Spread the word! Tell your friends and neighbors that sea turtle season is here and their survival depends on everyone in the community.
Learn more:
Miami Beach Sea Turtle Species
City of Miami Beach Marine Turtle Protection Ordinance
Florida Sea Turtle License Plate
Florida Fish and Wildlife Research Institute